Experience Yemen
The Land of Arabia Felix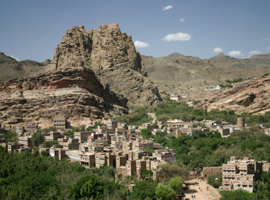 LTG Travel is your source for group tours to Yemen, as well as low airfare for individuals or groups to the Middle East, Europe, Asia, Africa, Latin America and more.



Experience Yemen


A trip to Yemen is a dream destination in an atmosphere of unrivaled authenticity and discovery.


Yemen, with its breath-taking mountains and its lush, fertile valleys, is one of the best kept secrets of the Middle East.


The beautiful country of Yemen is a land extraordinarily rich in beauty and culture.


Discover the timeless history and intrigue of the land of Yemen.


Yemen is one of the oldest continuously inhabited regions in the world, a place untouched by modernity.


Experience the spectacular deserts, rugged mountains, fertile valleys, magnificent terraces, and beautiful beaches of the enchanting land of Yemen.


Explore Yemen, the Arab world's best preserved and most hospitable culture.

Yemen
With spectacular landscapes unmatched by any other region in the world, Yemen is an extraordinary tourist destination. Explore this enchanting land and behold the splendor of its land and people. Discover the natural and cultural beauty of this ancient location... a destination of unique heritage beyond imagination!


Photo Album

See photos of Yemen